Cromer Carnival 2023
Carnival Christmas Concert 2023
Carnival Video 2023
Here's a couple of 360 videos from Wednesday evening and one from Thursday evening. Click and drag to move around, though they may not work on iPhone browsers.
We're on our way to the Carnival at Cromer. We're the Carnival Royal Family for the year.
Looking for times and dates for Carnival Week in August 2024? Coming soon - it's all built around the third Wednesday in August.
We're adding to our selection of pictures from the week - they're on the Photos/Videos tab.. There are some 360 images you can move these around and zoom in and out, with your mouse or finger.
Andreas has been busy with his camera as well; can see his
Carnival Collection here
.
And if you enjoy playing with the 360 pictures, here's some more video in 360, though it won't currently play on iPhones.
And for a bit of fun, a couple more 360s. You can zoom in and out and move the picture around.
Congratulations to Our 2023 Royals
Miss Cromer: Yasmine Macklin-Page, Senior Attendant: Cathryn Elliott, Junior Attendant: Jack Annison, Junior Attendant: Ivy Broughton and thanks to all who attended the selection event at the Cliftonville Hotel.
And the Royal family is completed by the Prince and Princess for 2023, Yasmin Macklin-Page and Herbie Wilson.
Carnival Youth Team Awards
Many congratulations to all the members of the Carnival Youth Team who received certificates of appreciation at the Annual Town Meeting on 22nd March. Most were able to be present to collect - and somehow a slightly older Carnival volunteer crept into the picture. Mind you, he's been a volunteer since he was about their age!
Before and After Carnival
The Voluntary Entertainments Organisation, which arranges the Carnival, runs several other events during the course of the year. The most recent was the Pancake Races, held in North Lodge Park. Well done to all the competitors - and special thanks to the gulls who enjoyed all those pancakes which fell on the grass!
New Year's Day Fireworks
Cromer started the year with its usual bang!!
Run-time is about 3 mins for the whole clip.
---
We've recently been celebrating 50+ years of the current series of Carnivals. Our appeal for pictures brought in hundreds of images - some from earlier Carnivals! Here's one of of our 'nostalgia' sequences.
The Carnival videos are sponsored by
Poppyland Publishing
Carnival Events
Christmas Concert
4 Dec, 2023 ~ 7:00pm

The annual Carnival Christmas Concert at the Parish Hall for over 60s. Free admission, free coach from Suffield Park Post Office at 6.05pm. Need a lift - phone Steve on 514469. Light refreshments.
Carnival Week 2024
17 Aug, 2024 - 23 Aug, 2024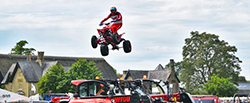 So you're already looking for the dates for Carnival Week in Cromer, 2024?